First published in Facets – The Company of Master Jewellers Magazine.
Since its launch in 2011, the Fairtrade gold story for miners & jewellers has slowly gathered momentum across the UK. The launch (2011) was a mixed bag of great enthusiasm for the idea of Fairtrade's first excursion into certifying precious metals, coupled with early teething problems on supply and an extraordinarily high gold price. Well these realities are no longer a part of the Fairtrade story. In fact Fairtrade have travelled a long way in the last three years and the aim of this article is to highlight how jewellers and suppliers can support the growing Fairtrade movement in the UK.
Fairtrade's vision is that certified gold and precious metals from artisanal and small-scale miners will become embedded into the very fabric of the jewellery supply chain.  It is Fairtrade's belief that every jeweller, jewellery company and brand, whatever their size or shape, should be able to access the benefits of the world's only consumer facing certification scheme in the jewellery trade.  It is their ambition to see the entire fabric of the jewellery trade systemically embedded with the Fairtrade gold and precious metals offering.  This way we can all make Fairtrade gold a realistic and accessible choice for the jewellery buying public of the world.
But why? Why do we need Fairtrade in gold. On a recent visit to Kenya and Tanzania with Willie Hamilton, we witnessed first hand the extent of the corruption, systemic mercury usage, exploitation in trading, poverty and dangerous working conditions that millions of small-scale miners work in. The human impact of jewellery is huge, with the overwhelming majority of people in mining classed as artisanal or small-scale and in many cases earning $1-2 USD per day. If we step outside the politics for one minute and focus on our contribution as a jewellery trade, we must be honest and say that as a trade we have contributed to the suffering of the poor through the gold we use. So the moral case for us as a UK trade doing something concrete about this is clear and unequivocal.
Getting involved with Fairtrade's work on gold is not difficult and is a tangible way that we can contribute to transforming the lives of thousands of poorer miners and their communities. So in the rest of this article I intend to go through some of the common misunderstandings about Fairtrade gold and hopefully demonstrate how straightforward it is for a jeweller to participate in this life-changing opportunity.
Price. It is affordable!
Fairtrade guarantees certified miners better conditions and terms of trade in three principal ways; the Fairtrade premium, the minimum price guarantee and the Fairtrade license fee. Set in USD (the international currency used in the trading of gold), the minimum price cannot fall below 95% of LBMA on the day of trade. This in and of itself is a vast improvement for miners associated with Fairtrade, with some selling into the local markets at 92% (Bolivia), 80% (Kenya) and 62% (Uganda). So as you can see, by using Fairtrade gold you are already making a huge differ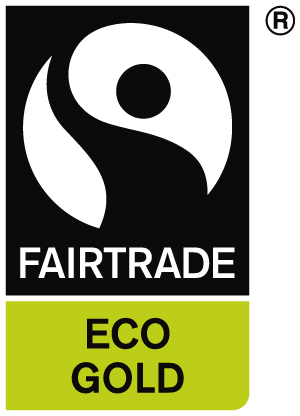 ence. The Fairtrade premium is set at $2000 per kilo or $2 per gram and is paid directly to the certified mining group for their own community development investment, typically health, education, crèche facilities and so on. Finally the license fee charged on the use of the Fairtrade gold label and stamp. This is $1.80 per gram and is paid to the Fairtrade system, who in turn reinvest this back into working with producers, promotion, market development and expanding the benefits of Fairtrade certification on the ground with more mining communities. This means that the Fairtrade exposure on the retail price is not more than $3.80 US per gram. Price is most certainly not an obstacle to participation any longer.
What does it say about my other products?
This is a very normal and understandable anxiety when first confronted with the idea of Fairtrade gold being positioned alongside a product that has no provenance on it. From personal experience as a jeweller selling to my customer for over 12 years with Oro Verde traceable gold the anxiety never played out. Customers are always impressed that a business is doing the best that they can with what is available to them. Involvement with Fairtrade is seen and interpreted by consumers as a positive step for any company or brand, and the anxiety expressed as 'What will it say about all my other product?' simply never plays out, and Fairtrade have 20 years of working with companies to back this up. Whether large or small, Fairtrade always adds value to your retail experience and story and in gold Fairtrade have countless testimonies from consumers and participating companies that this is the case.
Availability of product.
Another anxiety expressed by jewellers is around the accessibility of Fairtrade gold in the form that they need. Again Fairtrade have made huge strides on this front. Firstly the volumes from certified sources are increasing. At launch there was an annualised availability of less than 300 kgs. Currently there are 450 kgs and by the end of this year we will see nearly double to 750 to 800 kg, from 4 certified mines. However perhaps the most significant step forward has been the fabrication and services now available to the UK jewellery trade. For example, with Cookson's are now offering semi-finished products like sheet, wire or grain or Hockley Mint making their entire catalogue and casting process available in Fairtrade material. This means that for the first time we are seeing real fabricated supply and manufacturing services able to meet whatever demand a jeweller may have. So whether you are a small design house using sheet and wire, a CAD/Cam designer using rapid prototyping and casting, or you purchase engagement mounts and wedding rings from WEDfit, Fairtrade can now be incorporated into your portfolio of consumer options in gold.
The Gold Campaign. I DO.
Starting in September of this year Fairtrade will begin its countdown to the consumer launch of its 'I DO' campaign for 2015, by reaching out through its national campaign networks to local high street jewellers with a call for local jewellers and national brands to participate in the 2015 consumer push on Fairtrade gold. Starting with the industry outreach (September onwards) will give jewellers time to prepare for the consumer activity around Fairtrade gold and the subsequent change in purchasing behaviour of the gold buying consumers. With a focus on wedding rings (but not exclusively) Fairtrade will be targeting the wedding ring market with a clear view on making the gold wedding ring a default purchase in Fairtrade Gold. This is naturally a very bold move, but one that given the high aspirational and emotional investment made into getting married, the symbiosis of knowing that your wedding ring can be leaving a legacy of love and justice makes this the logical place to start. Participating in this national rollout couldn't be easier with WEDfit, Brown & Newirth and other wedding ring and mount companies soon to partner with Fairtrade, it is not beyond the realms of reason for every jeweller to be able to stock Fairtrade certified wedding rings as their exclusive ring offering. Just imagine the UK trade being responsible for the selling of 100,000 Fairtrade wedding rings a per year. This would translate into close to $1 million USD of Fairtrade premium going back to impoverished mining communities. Something we can all be proud of as UK jewellers.
How to get involved.
Become a License holder.
To become a licensee for Fairtrade gold, jewellers and brands should contact the Fairtrade Foundation's business development manager Reena Agarwal at reena.agarwal@fairtrade.org.uk and ask for a copy of the license contract.
Join the Goldsmiths scheme.
If you are a small jeweller or Goldsmith that typically uses less than 500g of gold a year, you are best to join the Goldsmiths scheme that offers an on-line registration and access to buy from Licensed sellers of semi-finished products. For more info please visit www.fairgold.org/goldsmiths-registration/
Become an authorised supplier.
if you are a refiner, casting house or supplier of semi-finished gold products and wish to participate in fabricating and supplying the jewellery trade you can apply to hold a License for semi-finished product. Again your UK contact would be Reena Agarwal.
For International enquiries you can email Amy Ross the International project manager at gold-pm@fairtrade.net International website www.fairgold.org
To follow all the latest market developments make sure you visit facebook.com/fairtradegold or follow the Fairtrade gold Twitter feed at @fairtrade_gold #fairtradegold